Roll Up or Roll Down
£9.98 each
Price includes VAT. No minimum order quantity.

Have each beanie individually personalised with any name or wording of you choice.

Ideal for golf societies, golf clubs, business promotions and special events.

Colours for Roll Up Beanies:

Colours for Roll Down Beanies: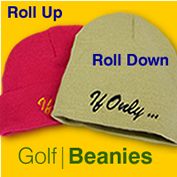 100% Acrylic
One size fits all.
Text Only
You can have each beanie
with different wording, no origination costs or
minimum quantities.
Logo / Designs
For an additional one off charge of £25, have your club,
company or society logo embroidered on your beanies.