Small 54mm & Large 70mm
Personalised with any name of your choice
from £12.24 for 25 tees
Printed on "Bioswing Tees" which are made from an environmentally friendly, degradable material.





BioSwing Environmentally friendly Range:




Prices in the table below include all origination and VAT. There is an additional 10% discount on orders over £75
which will be applied at the shopping cart.
Printed in Red, Black, Green or Blue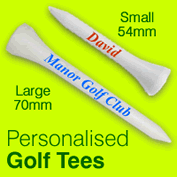 More durable than traditional wooden tees.

Support the environment
with biodegradable
golf tees.